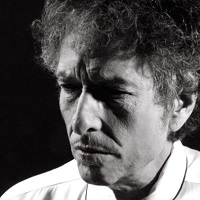 My problem with big, big gigs is that I get so star-struck I tend to miss the entire first half. 'See that man over there?' my brain repeats, again and again. 'That's Leonard Cohen/David Bowie/Lou Reed, that is.' Only in this instance, it was Bob.
A familiar figure with blue hair squeezed between the seats a few rows in front of us - Snoozy, late of the Arnolfini bookshop.
'SNOOOOZEEEE!' we called, as one. She turned, startled. 'Oh,' she said. 'What are you doing here?'
Probably the same as you, we thought. And as Cerys Matthews, who was being escorted around the venue in a white fedora, just like Bob's.
And then He was on stage and my brain duly dribbled out through my ears, so here's a review written by my companion, who is possibly the biggest Dylan fan in the world:
Bob Dylan and his band took to the stage promptly at 7.30pm. There was no support act to sit patiently through, the lights went down, the band started to play, the lights came up, and there, centre stage, was his Bobness himself, dressed like a Mississippi riverboat gambler, his five piece band all wore red lounge suits. The opening song was Times Have Changed

which Dylan wrote especially for the film

The Wonder Boys.

It's a wonderful opener, the band were playing like forked lightning and Dylan's voice sounded great. I wondered what the next song would be ...
And here's the thing... Dylan's been recording since the 1960s began, he's recorded well over 40 albums and written some of the most influential, outstanding songs in the history of contemporary music. His influence is huge. Those who like his music (and I appreciate there are those who don't) usually love it with a passion and the relationships they have with the songs might be compared with old, deep and beautiful friendships ... I wondered what the next song would be ... You know he won't play all your personal favourites but you really hope he'll play some of them but when many of those songs are over 30 years old, what are the chances? Bob Dylan himself clearly wants to play more contemporary songs, and he does, and it's exciting and dramatic... but still, when he plays a real classic, beloved song like Tangled Up In Blue,

from the incomparable

Blood On The Tracks

album, the audience are on their feet and raising the roof of the Cardiff Motorpoint Arena.
I'm not complaining. It was a unique and mesmerising experience that I hope I'll never forget. When the concert finished, I couldn't speak for the wonder of it until I was out into the autumn night. And then I couldn't stop talking about it ... I wished he'd played
Mr Tambourine Man,
mind.